Discover more from Letters from Tuscany
Stories and recipes from my kitchen in Tuscany | Seasonal, uncomplicated, nourishing vegetable-forward food by Tuscan food writer and cookbook author Giulia Scarpaleggia
Over 9,000 subscribers
Meet Cucina Povera, our new cookbook
Meet our new cookbook, Cucina Povera | Preorder Announcement | How the idea of Cucina Povera was born.
We pop into your mailbox because we have a big announcement to share with you, something we've been working on for the past two years.
The other day Tommaso prevented me from writing once again "then I will tell you about the book". Yes, I realise that I have written it several times over the past two years, but it has been a long, hard, accurate job. This is exactly how I have always wanted to write my own cookbook: a team effort between author and publisher. It is the same commitment I put in every time I press send on this newsletter.
Finally, the wait is over: let me introduce you to our sixth cookbook, Cucina Povera, published with Artisan Books. And this time is for real.
Cucina Povera: The Italian Way of Transforming Humble Ingredients into Unforgettable Meals
The Italians call it l'arte dell'arrangiarsi, or the "art of making do with what you've got." This centuries-old approach to ingredients and techniques, known as cucina povera, or peasant cooking, reveals the soul of Italian food at its best. It starts with the humblest components—beans and lentils, inexpensive fish and cuts of meat, vegetables from the garden, rice, pasta, leftovers—and through the ingenuity and resourcefulness of the cook, results in unforgettably delicious and satisfying meals. In 100 recipes, Cucina Povera celebrates the best of this tradition, from my favourite, pappa al pomodoro (aka leftover bread and tomato soup), to Florentine Beef Stew, Nettle and Ricotta Gnudi, and Sicilian Watermelon Pudding. Soul-satisfying, super healthy, budget-friendly, and easy to make, it's exactly how so many of us want to eat today.
"I rarely open a cookbook and want to make several recipes immediately. But it happened! Here is a creative yet practical book with stunning photos. The produce-forward dishes remind me of Cal-Ital cooking in upscale restaurants, yet ingredients are humble. It's a cookbook worth adding to your stack."
 –
, author of Will Write for Food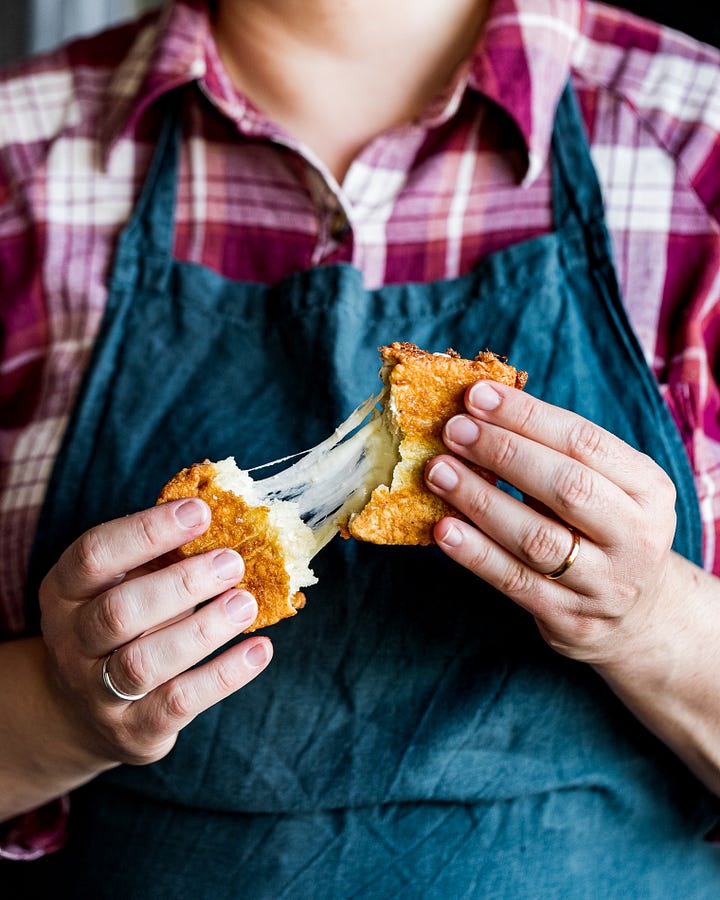 Cucina povera dishes are immediately recognizable: the use of humble ingredients, seasonal vegetables, and simple cooking techniques, plus a healthy dose of inventiveness. With more than 100 recipes, Cucina Povera celebrates the best of the Italian resourceful, thrifty and inventive cooking tradition, from pappa al pomodoro (aka leftover bread and tomato soup) to Florentine Beef Stew, Nettle and Ricotta Gnudi, and Sicilian Watermelon Pudding. Soul-satisfying, budget-friendly, and easy to make, it's exactly how so many of us want to eat today.
Cooking this way transforms ingredients into hearty meals that are more than the sum of their parts.
The book will be available everywhere books are sold on April 4, but it is available for preorder now, online and at your favorite local bookstore.
---
More posts on Cucina Povera
Ahead of publication day, join us for a sneak peek into the 2-year journey behind the creation of "Cucina Povera." Our newsletter shares behind-the-scenes stories and provides an in-depth look at the writing and photography process.
---
I know it might seem odd to ask you to preorder a book now, after the Christmas frenzy, especially when the book will be delivered in April. But preorders are the best way to support an author and help a book succeed.
Book preorders, especially on Amazon, are paramount for the success of a book: they signal to our publisher that there's interest in the book, encourage larger orders from big retailers and create a buzz about Cucina Povera. That's why we are asking you to preorder now and share the news with friends, family, and passers-by. This will give us the chance to keep doing what we love the most: writing cookbooks and sharing delicious, seriously tested recipes with you.
Here on the blog, you can find all the links to more online and local bookstores where you can preorder Cucina Povera, too.
"Italian cooks are known for their ability to turn humble ingredients into delicious food. But in the hands (and kitchen) of Tuscan food writer Giulia Scarpaleggia, the art of la cucina povera shines with new allure. Giulia's deep knowledge of and respect for her native country's culinary traditions come through in every recipe of this beautifully photographed book."
-
, author of Preserving Italy and Williams-Sonoma Everyday Italian
How Cucina Povera was born
It was May 2020. In Italy we were easing out of the first severe lockdown, we had just lost Tommy's mum, and I was 6 months pregnant with Livia when we received an email from Judy Pray, the executive editor at Artisan Books.
"I'm writing to you because I'm a fan of your work and I have a cookbook idea that you could be the perfect author for."
Tommy thought it was spam and he was about to throw it away when I entered his room with teary eyes. It was not a spam email, it was a lifelong dream knocking on your door.
Actually, more than a dream, I like to think that it is a project we have been working on for years, since when I started the blog almost 14 years ago, since I left my daily job, and since Tommaso and I decided to work together. It is made up of choices, and leaps of faith.
In one of the most difficult moments of our lives came the opportunity to write the book we had always hoped to work on, with a renowned international publisher, on a theme close to my heart: the Italian cucina povera.
That email led to an extensive correspondence with Judy about the suggested theme, the possible perspective and chapters, the many recipes, the regions and traditions, and the ingredients and principles of cucina povera.
Month after month, I realized how cucina povera is the red thread that characterizes the way my family has been cooking since I can remember, my approach to recipes and menus during cooking classes, and the way I daily feed my family.
We rushed to define a tentative index before Livia was born, I lulled her to sleep reading traditional books on regional Italian cooking, tested recipes in my kitchen while she was asleep in the other room, and weaned her with fava bean puree and gnocchi alla sorrentina.
"Giulia transports the reader through her native Tuscany and beyond with elegantly simple dishes."
– Katie Parla, author of Food of the Italian Islands
This book is tightly knit into the past two years made of Covid lockdowns, pregnancy, isolation and deep connection with nature and good friends, grief and inexplicable joy, newborn babies and toddlers, early mornings and late nights at the computer, infinite hours spent in the kitchen and poring over drafts.
Tommaso and I worked side by side raising a baby and writing and photographing this book. The pandemic, Livia and the work on this cookbook all happened together, and they changed us in ways we could not expect. Now we are excited, and frightened at the same time, to finally share this second baby of ours with the world.
Cucina Povera invites you into the heart of Italian home cooking with open arms and reminds you that good food is--and has always been--simple, sustainable, and cheap. Giulia's writing is as beautiful and warm as the dishes she makes; this book is an essential resource for any Italian food-lover, but it'll also make you want to run to the kitchen and cook.
-
, Founder of Pasta Social Club
In the next weeks, we'll tell you more about Cucina Povera, sharing behind-the-scenes moments, from recipe testing to how we styled and photographed all the recipes. I hope you'll fall in love with Cucina Povera as we did, loving each recipe made of the simplest ingredients, rediscovering the beauty of cooking with humble pantry ingredients and creating unforgettable meals.
And now, if you have questions regarding the book, the past two years, the recipes we chose to include, the photos we took, the principles of cucina povera, or the way we tested and re-tested recipes, just ask, we'd be happy to open a conversation on the Italian Cucina Povera.
I love food for its force of attraction, and thanks to food, I have met some of the most significant people in my life. Tommaso and I want to say grazie, a big heartfelt thank-you, to all our family and friends, and everyone who helped us bring this book to reality.